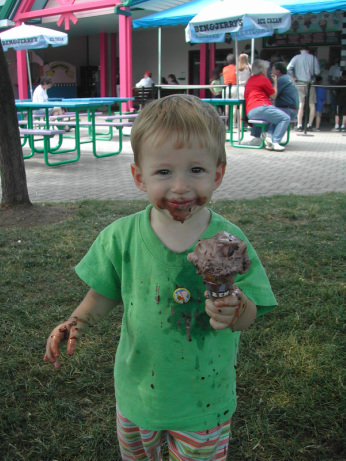 The Ice Cream For Breakfast Day Story:

Once upon a time there was a little girl named Ruth and a little boy named Joe. Ruth and Joe grew up in the back of
beyond in New York state where it was very very cold.

Every winter between New Year's Eve and Passover, life in up-state New York got extremely boring, so their parents
invented a holiday to brighten up the dreary days of winter. It was called Ice Cream For Breakfast Day. This was a
wonderful holiday for children and parents alike because to celebrate you had to eat ice cream for breakfast on the
first Saturday in February.

Well, Ruth and Joe grew up and went away to a university. They made many friends and taught them all about Ice Cream
For Breakfast Day. After college Ruth had a roomate named Barry to whom she also told about this tradition. Many
years later, Barry met Itzah C. Kret in Washington, D.C. and converted him into an Ice Cream For Breakfast Day
observer.

Nobody has kept precise track but through word of mouth ICFBD has been celebrated in many homes, states and
countries all over the world. Some people give parties with musical instruments, others simply celebrate with family
members. There is no right or wrong so long as you follow the 3 plus 1 simple Ice Cream for Breakfast Day Rules:
(1) Eat ice cream; (2) for breakfast; (3) on the first Saturday in February; AND (4) spread the word. The rest is up to you!

You can become an Official Ice Cream for Breakfast Day Ambassador! Simply send this link to seven of your friends.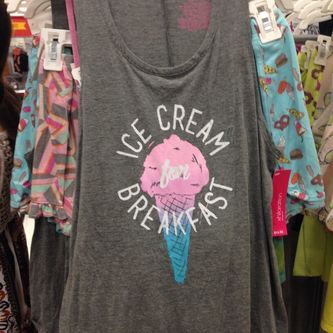 Shirt spotted at a Target Store !!!
---
---
THE HOLY HAGADAH SHEL GLEEDA

Welcome to the annual IIC4BD celebration. For those recent ba'alay t'shuva who have not celebrated this special day before, there are 2 basic components of the obligation. First, as we have been doing, is the eating of the ice cream. The second is the telling of the story. We do this in this order in fulfillment of the decree of our sages who state: "start with dessert; you never know what might happen."

Each year we try to add new insights into this special day, by bringing down insights of our greatest sages—the eyes cream of the crop. This year we focus on the comments of the great Latvian rav from the late 19th and early 20th centuries, commonly known as The Ruggleschover. Of course, as with all holidays there are certain rules and customs to proper observance. Of course we begin with Kadesh, followed by "your pas" (the cookie of your choice), and of course we have the four questions: Why is this morning different from all other mornings? 1. On all other mornings we eat cereal or eggs, but on this morning we eat only ice cream. 2. On all other mornings we have all types of cream (half-and-half, sweet cream, sour cream), but on this morning, only whipped cream. 3. On all other mornings we don't even dip once, but on this morning we dip twice (ice cream into hot fudge and cherries into whipped cream). Of course Grah, better known as "the vanilla cone" holds that you can fulfill this part of the obligation simply by having a "double dip" of ice cream. 4. On all other mornings we eat either sitting or in the car because you are late to work, but this day we eat reclining so that the hot fudge doesn't drip on the tie.
This is the ice cream that four of our fathers ate in the land of Rochester, NY where it is rumored that IC4BD began. We were snowed in until the holy one, blessed be he, took us out with a cold hand and outstretched glove. Had he not melted the snow there, we, too, would still be stuck in Rochester. Therefore, even if we were all wise and experienced in eating ice cream, it would still be our duty to tell over the story of IC4BD. And the more ice cream one eats today, the more he will have to pay to learn in the academy of Dr. Atkin or Jenny Craig.It is told that Rabbi Baskin, Rabbi Robbins, Rabbi Binyamin, and Rabbi Yirmiyahu spent the entire night telling over the story of IC4BD until their talmidim came to tell them "it is time to eat the ice cream." Rabbi Baskin said, "I am like a child of 7 and yet I never understood why ice cream should be eaten for breakfast, until Ben Glida explained to me that said, "Many are cold, but few are frozen." It is interesting to note that Rabbi Baskin was, in fact, much older, but a miracle occurred to make him seem like 7 so that people wouldn't make fun of him if he got chocolate all over his face. He used to eat the ice cream with his tongue, the preferred method
according to the classic work by Rabbi Bressler, "lick tov me-Eliyahu" Of course one must be very careful when doing this. For an in-depth study of all the rules of licking your ice cream, please study the classic work "shmeras ha-loshon," "Guard your Tongue."

Tradition speaks of 4 sons, the wise son, the wicked son, the simple son, and the one that does not even know how to eat ice cream.
The wise son asks, can I have some more ice cream? To him you should give an extra cherry, and explain all the laws of IC4BD, that no dessert need be eaten after the ice cream. The wicked son asks, what is this mishugas that you do? By calling it
mishugas and saying for you, he removes himself from the community. You should tell him bluntly: "No ice cream for you!"
The simple son asks, "what is this?" To him, you should tell him that the Almighty dug us out from a Rocky Road, with a strong plow and gave us ice cream". And for the one who does not even know how to eat ice cream, you must put the ice cream on a spoon for him, and give him the inside scoop about IC4BD. The Almighty showed the world his awesome power by bringing down 10
awesome toppings, unlike any that had ever been seen before. And they are: Hot fudge, strawberry topping, chocolate syrup, colored sprinkles, cherries, nuts, whipped cream, chocolate jimmies, pineapple, and marshmallow. The Almighty has bestowed many favors on us.Had He given us ice cream with no chocolate fudge, it would have been enough. Had He given us the fudge, but not provided a machine to heat it, it would have been enough. Had he heated the fudge, but not provided any chocolate jimmies, it would have been enough.
Had he provided chocolate jimmies, but not colored sprinkles, it would have been enough. Thus how much more so should we be grateful to the IIC4BD Committee for the many flavors that it bestowed upon us. Rabbi Samson Raphael Hershey used to say: whoever does not explain these 3 things on IC4BD has not fulfilled his obligation, They are the ice cream, the whipped cream, and the hot fudge. The Ruggleschover, however, holds that is enough to eat them; they need no explanation. Rabbi Pierre was very careful to break the shrink wrapping on the ice cream containers before Shabbos. He suggest running your finger around the rim of each container, in what he refers to as the "Seal Test" The Chabad Chasidim (as you know, chabad is an acronym for "Hagan, Bina, and Dass," an insight into Hagen Daas) are very careful to eat the ice cream with an added level of simcha. The Rebbe encouraged everyone, Jew and non-Jew alike, to eat ice cream with "Good Humor" Finally, we continue the tradition started by Hillel. He would put ice cream between 2 cookies and eat them together. He is credited with inventing the ice cream sandwich. This concludes the formal requirements of IC4BD as discussed extensively
in the gemorah, meseches Bubba Meiseh. Just as we merited to observe it today, so may we merit to eat ice cream next year in Yerushalayim together with the Mashiyach, bimheira b'yameinu.
Le Slide Show of Invitations and News!
WORDS OF WISDOM FORWARDED FROM A SOURCE @ MONTANA STATE UNIVERSITY

"My advice to you is not to inquire why or wither but just enjoy your ice cream while it's on your plate--that's my
philosophy."---Thornton Wilder

"A little ice cream, tumbled about, anon, becomes a mountain."
--paraphrased from King John, by Shakespeare