Welcome to the Wacky,
Whimiscal and Wonderful World
of


Itzah C. Kret
---
Who is Itzah C. Kret?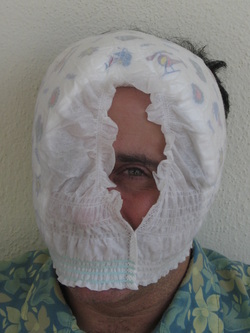 Itzah C. Kret is an artist and writer who lives in Washington D.C. with his wife, Eye'ma C. Kret, and their children, Heesa C. Kret and Sheesa C. Kret.
Itzah C. Kret has held various "day" jobs including: a union organizer, telephone operator for the deaf, cabin boy on a research vessel in Antarctica, Bobcat dance producer, landscaper, lawyer, day care center assistant teacher and "Mr. Friendly" at the Brooklyn Children's Museum. Itzah C. Kret is a missionary for a grass roots holiday
Ice Cream for Breakfast Day
.
Itzah C. Kret makes collages which you can view
here
. He is also known as The Phantom Planter because he goes around planting flowers in public places.
He lost most of his sight in one eye in September 2011 and began dancing to deal with the pain.
LINK TO DANCE VIDEO HERE
---